The finest of the fine
---
Action Joe 1-2 (1997)

The story of Action Joe and his action-packed adventures.
---
Action Joe 1 and 2 are extremely important films directed by the mastermind that is, Jason Ruiz.

These films raised the bar back then and popularized detailed hand-made scenes.
If you're very new to 3dmm, I think its important to learn from this movie. Even if today the movie is somewhat poor, without it the movie landscape would be very different, for the worse.
---
3dmm.com rating:


Personal Rating:8.7/10
Written by: Pokerman
3dmm.com Link

Diabolical Delightment (2001)

Gustave goes insane again and kills people randomly. Meanwhile, Johnny plots his revenge. The sequel to Enriched Enlightenment.
---
A jaw dropping film for the time and considered Will Maltby's magnum opus.

Nothing too revolutionary, but considering it has fast paced action and rotating camera pans it's extremeley polished. Keep in mind this was before 3dmm AP so no hotkeys for camerapans and such, you had to do everything manually. Though the movie has had its few complaints from the andres dick suckers, including the fact that the movie is extremely simplistic and nothing makes sense. But even if, it's considered a noteable film in 3dmm's history.
---
3dmm.com rating:


Personal Rating:9/10
Written by: Pokerman
3dmm.com Link

Litterbug 2 (2002)

A continuation of the events of Litterbug 1. The protagonist is rescued from the death chair by his partner, Josh, as they make a violent escape.
---
Pure mouth-watering action, this movie is the pinnacle of vanilla 3dmm action. There is a load of impressive shots and camera pans.

But with all of that hard work comes sloppyness. About 20-30% of the movie contains bad shots and sloppy scenes. But its a great movie to learn about slow camera pans and doing action movies right.

---
3dmm.com rating:


Personal Rating:9/10
Written by: Pokerman
3dmm.com Link

Moderately Confused (2004)

Following directly where Slightly Confused left off, the Bank Robber escapes back into the city where, with the help of his longtime friend Shady, he begins his plot to heist the Zephyr Gem...
---
One of the most ambitious movies to ever come out of the community

I consider this the longest legitimate 3dmm movie. Its quality always stays consistent with polished scenes and smooth animations for over an hour. While there are alot of back-and-forth talk scenes, its writing and characters keep it entertaining. It's also a great movie for learning vanilla techniques as many scenes use 3d-letters for various things.
---
3dmm.com rating:


Personal Rating:10/10
Written by: Pokerman
3dmm.com Link

Stranger 4 (2003)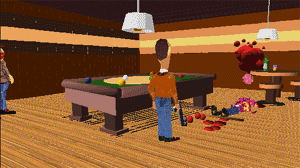 Stranger goes back in time to stop the evil John Duke, ruler of the west.
---
While I haven't seen Stranger 3, this movie is an absolute work of ART when it comes to animation.

This movie utilizes some great 3dmm tricks (like Ramu actors with pink turbans used as bits of brain, or straight up fluid dynamics simulations). There are also some detailed hmcs from time to time. This film is very advanced and should be watched by everyone who likes 3DMM scenery.
---
3dmm.com rating:


Personal Rating:10/10
Written by: Plopilpy (half edited by pokerman)
3dmm.com Link